Attract++
For difficult recruitments. 
The most powerful product. Strong media budgets and technologies bring up to 100% better results*. Publishing period 1-60 days.
Price: 1500 €
(10 credits ) 
Popular
Attract+
For challenging recruitments.  
The key to solve challenging recruitments. Works up to 55 % more efficiently than our former job ads*. Publishing period 1-60 days.
Price: 1350 € 
(9 credits ) 
Attract
For typical recruitment needs. 
The most effective recruitment marketing tool in it's price range. Gives up to 30 % better results*. Publishing period 1-60 days.
Price: 900 €
(6 credits)
Reach
Reach active job seekers. 
Basic job posting (1-60 days) to reach active job seekers cost-effectively and easily on Jobly's website.
Price: 600 €
(4 credits)
The value of one credit is 150 € + valid VAT. Purchased credits are valid for 12 months.
*The comparison is implemented based on previous Monster Premium and Monster Smart products during the summer and autumn of 2022.
Jobly's job ad publishing period is up to 60 days from the publication. A job ad may contain only one job title and description. The customer is responsible for unpublishing the job ad if it's needed before 60 th day, when the job ad is automatically unpublished. If a customer wishes to extend the application period (within 60 days) from the defined when publishing the job ad, the extension needs to be done before the job is unpublished. Re-publication of expired job ad is chargeable.
Jobly reserves the right to unpublish a job ad if the last application date in the text is defined in the past. The job posting should comply with laws, other regulations of authority and comply with accepted principles of right or wrong. Read more about our Terms of Use https://www.jobly.fi/en/content/terms-use
Job ads in Jobly gaines job visits on average: Attract++ over 1000, Attract+ 900, Attract 500, Reach 100
How does Attract work?
Jobly Attract is a new data-driven recruitment marketing solution, which engages active job seekers and activates passive ones. By utilizing recruitment data from Jobly, Alma Media and other platforms, we reach job seekers uniquely.
As a result of a long development, we can offer up to 100 % better results compared to our former products. Attract's power lies in a recipe that combines data-driven, targeted and effective advertising in Alma Media (reaches 89 % Finns weekly), Google and social media.
Choose the most suitable level - Attract provides the tools for the most typical, challenging or difficult recruitments.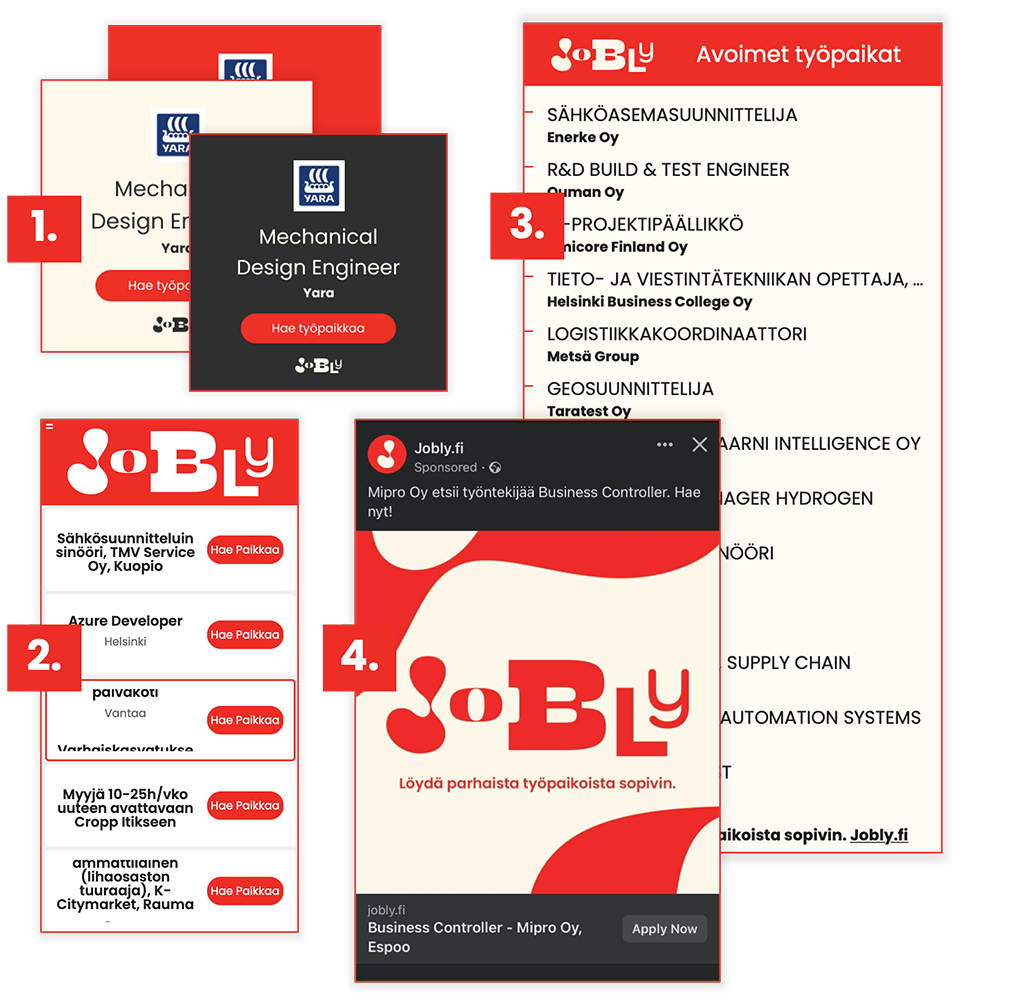 What does Attract look like?
Attract offers three different solutions aimed for typical, challenging or difficult recruitments. Depending on the chosen level (Attract, Attract+ or Attract++), the range of advertising channels, allocations and media contributions will grow – and so will the number of reached job seekers.
Attract includes:
1) Targeted display campaigns both on Google and on the websites of Alma Media.
2) Targeted remarketing of the job ad (RTB House)
Attract+ and ++ also include:
3) The job is featured in the job listings on the front pages of Alma's news media
4) Targeted campaign on social media
JOBLY INSPIRE –
Succeed in critical recruitments
Jobly Inspire recruiting campaign guarantees great results. Reach and create attraction among demanded professionals with our service, where Alma Jobly professionals guarantee success with our quality media solutions, inviting campaigns and content. Jobly Inspire produces based on the product level you choose at least 2000 to 4000 visits to your job ad.
Questions?
Do you want to know more about our products and services? Send us a message and we will get back to you!